2/23/2015
In October of 2014 I contacted Field of Armor to buld me a 1/6 R/C Sherman Tank, with the thought that every guy needs a big tank. The owner Loic is a great guy and fun to work with. I did this with my wife's blessing – what a great wife!!! Below I've added some of the features of this tanks directly from the Field of Armor wbesite:
FOA011RC Field of Armor Models 1/6 M4A3 (105) Sherman Un-Assembled R/C Kit
You can see a video of the finished tank (filmed on 9/12/2016) HERE.
THIS KIT IS SCHEDULED FOR January 2015 DELIVERY
This kit is a "Combat RC" tank, using the plastic frame of Dragon 75046 M4A3 Sherman kit, and adding a laser-cut inner metal frame to add structural strength.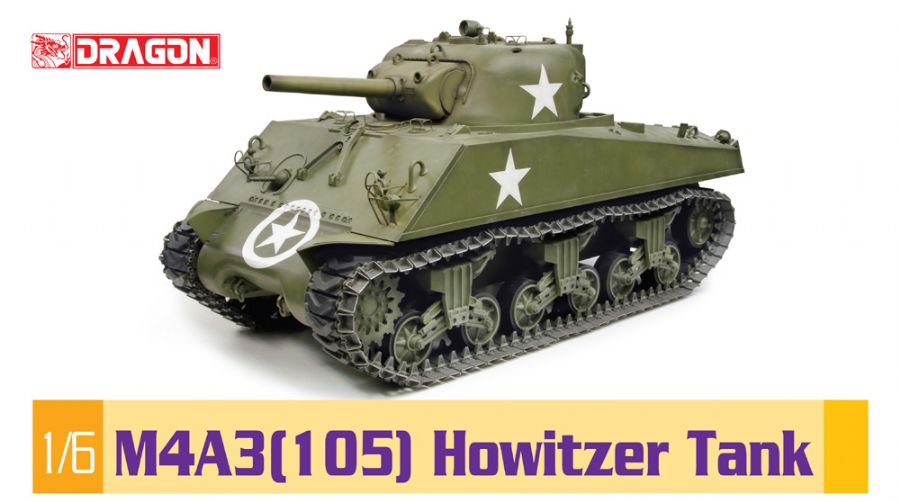 The kit includes the following components:
Dragon 75046 plastic kit – can be built as the M4A3 (105) or with the 75mm gun.

TTMS Motorization System, Low Profile

, TTMS is a "self-standing frame" which improves the structural strength of the body, and has high torque to turn in grass and rough terrain – Test speeds have shown up to 4.3 mph (6.9 km/hr) on flat surfaces.

TTRS turret rotation system

with its standard Lazy Susan / ABS rings and high torque motor. The rotation speed is around 12 sec for 360 degrees, or 5 rpm – accurate for the scale tank.
Track system is made with "hard rubber" pads and metal end-connectors with steel pins and clips – metal in-connectors between pins are cast inside the rubber pad to avoid stretching of the pad (see pictures below). Two track pads are available: T48 with Chevron (as per Dragon Kit) and T51 Rubber Pads which are flat and provide minimal stress from uneven ground. T51 Pads are provided by default, unless T48 pads are specifically requested by customer.
VVSS (Vertical Volute Suspension System) has been extensively reworked with heavy gauge steel to allow its "Combat" capabilities. It uses coil springs rather than volute springs, but works the same way. The plastic parts cover the metal inner frames, allowing visual accuracy.
All bushings, rails, springs, bolts and steel sleeves associated with the running gears, VVSS suspension, idlers and sprockets

Electronic Control System

: Speed controllers for the two motors, and the turret rotation. Emergency switch on the back panel. All wiring necessary and fuse box.
This kit does NOT include the TTES Paintball Marker Elevation System , the Paintball Marker & Accessories, or Coaxial Laser Guidance System.
The two 12 VDC UB12180 type 18Ah Lead Acid Batteries (or Four 5000mA Lipo batteries) or RC Radio/Receiver not included.
Motorization System, Low Profile
Designed for Sherman Tank Series
Non-assembledMotorization Unit for scale vehicles [i.e. 1/6 scale to 1:1 scale]. This powerful unit allows "Combat Performances" in rough terrain. The minimum height of this system is 3.4" from ground to highest point, but shaft center to back bolt center is 0" (Low Profile). To check the High profile Motor System, click here)
The shape of the front brackets is obtuse to allow fitting into tight frontal glacis
This self-standing motorization unit consists of two 450W/24VDC Motors in parallel, with reduction gears, chain gears, and sturdy frames to install in any motorized scale vehicle with a minimum internal width of 250mm (9.8").
Drive Shaft: 5/8" Cold-Drawn Steel with 3/16" keyway.
Floor print of unit: 18.5 cm width (7.3") by 22 cm length (8.7"). Distance from sprocket shaft center to front of unit: 3.5 cm (1.4"). The back of the motorization unit can be raised or lowered, depending on floor configuration.
ADD DRIVE SHAFT LENGTH in the comment of the order, otherwise the standard FOA10001RC Tiger I drive shaft will be provided: 3 1/8" inside the TTMS, 2 5/8" from TTMS motor plate to hull, and 3 1/4" outside the hull – Total length 9" [Panzer IV is 8 1/4″ overall]
The frame has a low back profile. The front bolt assembly is asymmetric to allow fitting into a tight area. A locking plate will restrict the forward movement of the motors on the side frame.
Advantages:
Self Standing: this unit can be installed in vehicle of variable structural stress resistance (i.e. Plastic, Fiberglass, Metal). It is a stand alone unit because of its laser cut frame mixed with steel cross braces.
Powerful: The 450W motors, 3,000 rpm @ 24 VDC, 78% efficiency, coupled with 7.18 reduction gears and 13/9 ratio chain gears provide sufficient torque for driving and turning in rough terrain. Effective 225 RPM on shaft sprocket. Ratio of chain gears can be changed.
Reliable: A series of flanged bearings on the sprocket keyed shaft provides perfect alignment and decreases rotational friction.
Requires:
Two high Amperage Speed controllers
Mixer is necessary if one stick control is used
Fuse Box recommended
I decided to have the tank modeled after one used in Europe after the Normandy invasion in 1944. The tanks name was DUKE, this is my wife's maiden name as well as one of my son's names. Here is a picture of this same tank I built in 1/35 scale: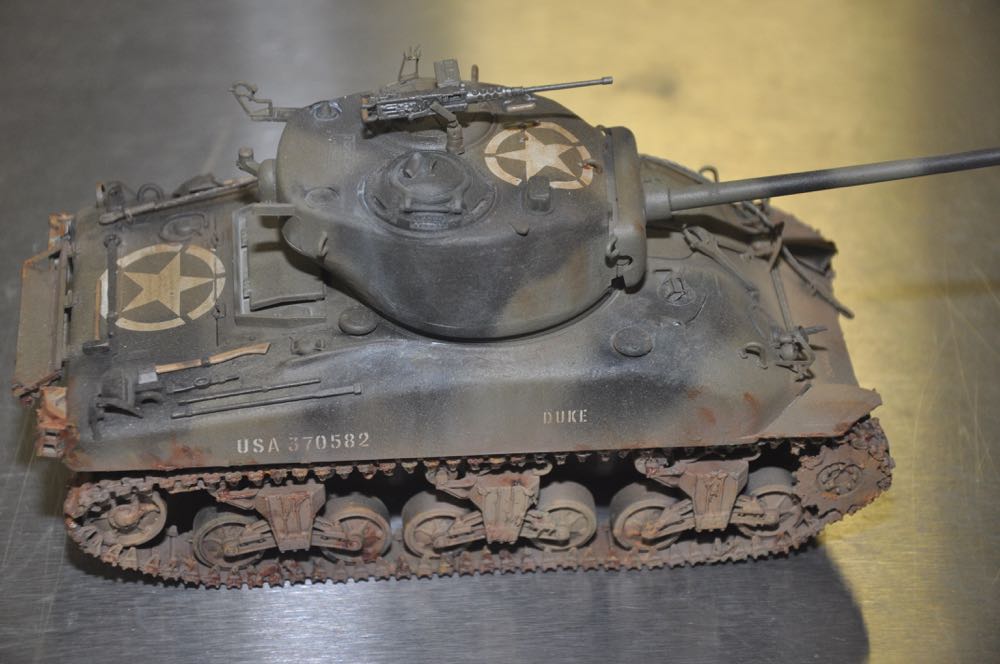 Here are some other reference photos:

My version will have a lot of extra detail provided by other vendors and will have the paintball and laser pointer option. All fitted out it will weigh in over 100 pounds. Stay tuned for further news. The tank should be finished in the next few months.
5/18/2015
The latest info now is that the tank will be finished at the end of May or early June. You just can't rush this stuff.
Here is a build tutorial of my tank on the Field of Armor webiste – click HERE.
1/22/2016 Here are a couple of very early photos of the tank at the Filed of Armor shop. This is with the early turret – mine will have the later turret like the model shown above.
6/2/2016 Here are some pictures of the tank build as of May (last month). It's still at the builder.